Wichita Juvenile Defense Attorney
Skilled Wichita Juvenile Defense Lawyer and Adoption Attorney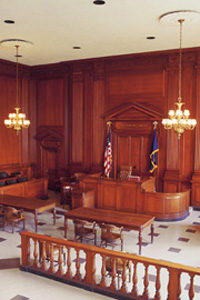 With more than 13 years experience, the attorneys at McDowell Chartered, in Wichita, Kansas, have expertise in defending juveniles accused of crimes and working with families of neglected or abused children who are in protective custody. We practice in municipal and state courts in Butler, Cowley, Sumner, Sedgwick, Reno, and Harvey County.
For both juvenile crime and custody termination, you need to have a lawyer as soon as possible. Call us today.
Juvenile Crime
Children aged 10-17 are normally entitled to a trial in juvenile court for what would be considered misdemeanors or felonies for an adult charged with the same crime. The child might have had a fight with another child, egged a house , assaulted a school official or police officer, or have stolen a bicycle or CD player.
It is important to take juvenile crimes seriously. If the defendant is found guilty of a juvenile felony offense, the sentence will affect the sentencing for any later crime in the person's life. Instead of being near the bottom on the sentencing guidelines, he or she will be in the fourth category from the top.
You need an experienced juvenile criminal defense attorney. At McDowell Chartered we will work to get the charges dismissed and to defend your child in court and achieve the best possible result. Juvenile sentences are often probation with 20 hours of community service for each charge, working with a church or city or county government.
Children in Need of Care (CINC)
When the Department of Social and Rehabilitation Services (SRS) puts children into protective custody because of neglect or abuse, the parents may be able to keep custody of their children if they follow the court's recommendations for parenting classes, drug and alcohol evaluation and treatment, psychological evaluation and counseling.
Many times the lawyers at McDowell Chartered represent grandparents who hope their children will turn their lives around, and if they do not, will adopt the grandchildren. People often find the process confusing. We will help you understand what is going on so you do not cause problems for your children out of sheer frustration.
You need an experienced attorney from the outset. If you wait until the end, when the parents' rights are terminated, you may not have the opportunity to adopt.
We represent other relatives as well as grandparents. These are closed-door proceedings; only people who are parties to the case are allowed in the courtroom. As your lawyer, we will motion the court to approve you as a party and will speak for you. We will let the court know you want to adopt your grandchildren or related children, will arrange for a home study, and will make sure everything is in order before you need to step in.
Whether you need a lawyer for juvenile criminal defense or for CINC proceedings, please call us. We have helped many people in your situation, and we want to help you.
"Putting Children First"