Wichita Estate Planning Lawyer
Wichita Estate Planning Attorney and Guardianship Lawyer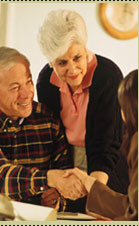 With good estate planning you can make sure your assets go to your children and grandchildren as you see fit, rather than as a court or bank trustee directs. At McDowell Chartered, in Wichita, Kansas, our estate planning attorneys will help develop your goals into written plans. And when a loved one dies, our lawyers will skillfully and efficiently handle the probate proceedings and turn their plans into reality.
In your will you can give money directly to your children and grandchildren, or you can set up a trust that will be created after you die. In the trust you choose the timing and circumstances under which family members will receive their inheritance. We recommend reviewing your will every 5 to 10 years to see it if needs to be updated.
For a family member who is disabled, you can set up a special needs trust that will provide for expenses that are not covered by state or federal disability payments.
A revocable living trust allows you to transfer assets in and out, to amend it, and to revoke it if you choose. If carefully constructed, a living trust can allow you to bypass probate. It becomes irrevocable after you die.
You can designate whom you would like to be your guardian (handling your affairs in general) and conservator (handling finances) if you no longer can manage your own affairs. You also can set up a guardianship and conservatorship for your young children, naming trusted family or friends to take care of them and their money until they reach age 18.
Today people are especially aware of the need to create a health care directive or a living will . It will assure that your views about medical treatments you want or do not want will be followed if you can no longer speak for yourself.
Our lawyers also understand the complexities of Medicaid planning when a family member will need nursing home care. We will help you preserve at least some assets for the other spouse or family members.
A number of our guardianships are for grandparents who want to take care of grandchildren because the parents are unable or unwilling to do so. Permanent guardianships are done only through children in need of care cases. Revocable guardianship agreements are much easier to arrange. Parents often agree to them because they can be changed if the parents' circumstances improve.
McDowell Charter serves the Wichita area, including El Dorado and Andover, as well as Cowley, Sedgwick, and Harvey County. Call us today to put our estate-planning knowledge to work for you.
"Putting Children First"